https://www.etsy.com/listing/121390516/deanna-the-deer-and-buttercup-the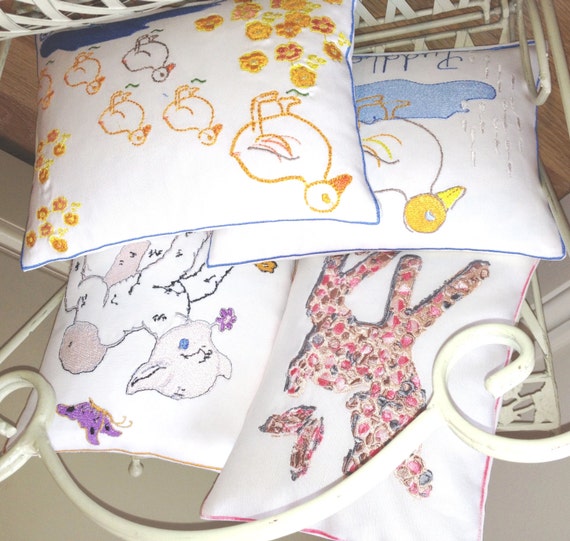 Inspired by this coming time of year, in the shops they appear, great to give and to decorate with! Artistic Cushion Throw, it certainly gives lush texture and playful thoughts.

* Deanna the deer is playful with Buttercup the Butterfly (Over 52,300 stitches)
* Lucy the Lamb with Betsy the Butterfly (Over 47,100 stitches) or
* Puddles the Duck that like Paddling in Puddles and being in the rain (over 26,400 stitches) or
* Ugly Duckling with Mother Duckling walking in the flowers (over 47,400 stitches)

Creating textured art with deep, bright embroidery threads to colour contrast and merge together to draw our eye to this gorgeous throw cushions.
White Linen/Cotton mix quality material, with vivid embroidery. The Bright Embroidered Boarder, all the way round gives it a luxury finish. Each signed LMD in the design.


Throw: 10"x7.5",
Inner: :Luxury new duck feather cushion (Down & Feather), non allergenic
Note: Colours & material may vary slightly due to photograph quality. More than one can be ordered, but will vary as they are unique in stitching! Colour variation also available. Convo me!


"The abstract embroidery has a life of its own. There are many layers involved, and I never know exactly what the end result will be. A truly unique creation through from the beginning of the design process, through to adding colour and removing colour, letting it merge into the material/fabric and even adding selected thread neon creates glazes with light and shade. Strokes and texture build up in and on the piece over the few hours it takes to complete each piece. This artistic process can be done exactly the same on two different cushion throws, and both will come out differently. They do have a life of their own. I work with artistic styles and the medium of machine embroidery. This process is definitely the most sensuous for me. The inspiration can come from many different places, photographs, paintings, objects and for instance, going to see a film. Part of the design packages I use have their own say in when a piece is finished. The stitching seems to be maxed out when the last thread layer is added! The piece darkens or lightens with the view point you have on it, as to what time of day and with varying light. It appears to move with the light and Shade. The stitches change from being sewn one way to another giving a unique contrasting life to the piece."

Lisa Marie Davies
LMDSimplyBe